Music
Think you're a big Spice Girls fan? Wait until you meet Liz West...
If you grew up in the 90s and love pop music, chances are you were a Spice Girls fan.
The girl group, made up of Melanie Brown, Melanie Chisholm, Geri Horner (nee Halliwell), Emma Bunton and Victoria Beckham, exploded onto the scene in 1996, and went on to be one of the world's most influential pop bands.
In that time they sold more than 85 million albums worldwide, racking up nine number ones—including debut hit Wannabe—as well as bringing out a rack of collectable memorabilia.
While most fans bought their favourite spice doll—Scary, Sporty, Ginger, Baby or Posh—or rocked a pair of Buffalo platform boots, one 11-year-old fan began her Guinness World Record breaking collection.
Liz West, now 33, is the proud owner of 5,000 individual items relating to the Girl Power group, including award discs, unique endorsement items, sponsorship merchandise, official products and worldwide releases on vinyl, CD, cassette, VHS, DVD and other formats.
Her impressive collection is currently on display at the #SpiceUpLondon exhibition, in the capital's Business Design Centre, until August 20, before heading up to Manchester—where she lives—on August 24 until September 4.
Liz (pictured below) said: "I was that perfect age when the Spice Girls first came onto the scene—young and impressionable. In 1996 I was their target audience. I remember seeing them on Top of the Pops and heard them on the radio. It was incredible, I was instantly hooked."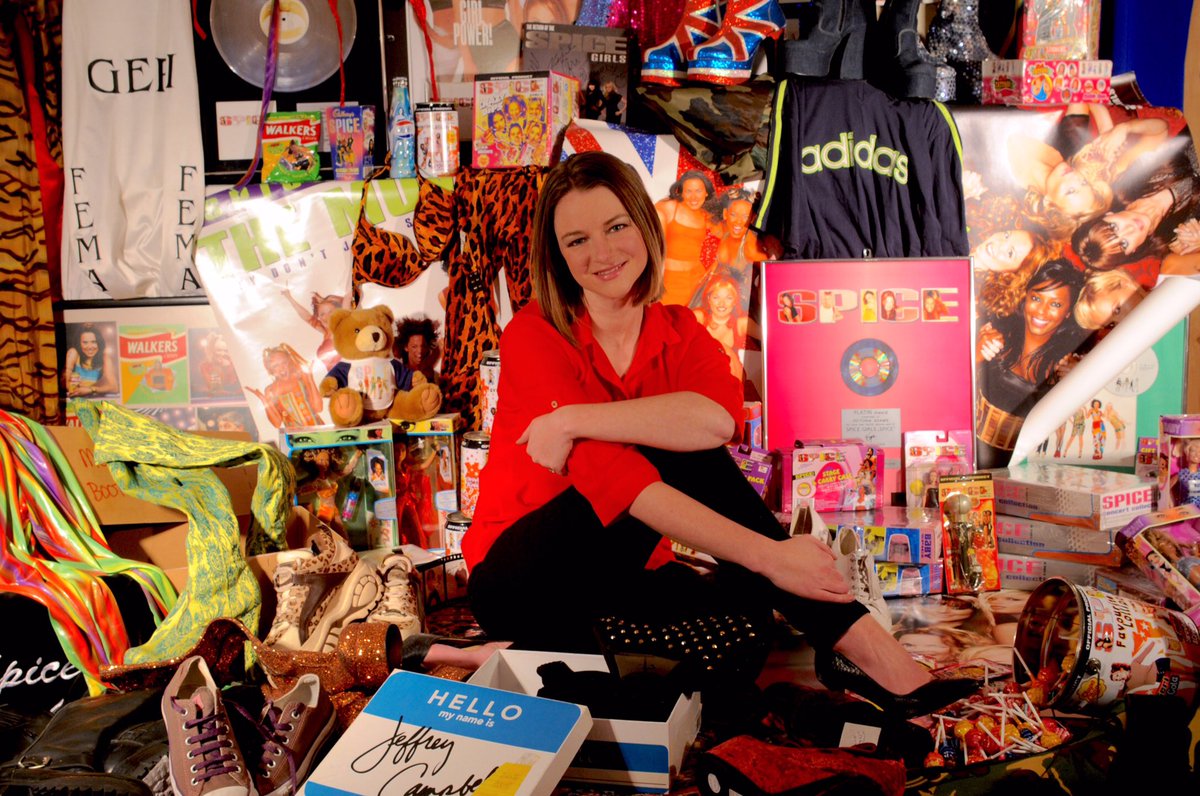 Starting with CD singles and albums, Liz began her collection, but it wasn't until aged 19 that she bought her first museum-worthy piece with her student loan money when she was studying at Art School in Glasgow—a top worn by Melanie C on eBay.
She said: "Unlike my friends, who were ripping opening all their memorabilia packages, at 12 years old I kept everything in packages. You could say I had a collector's instinct from the start.
"My dad is an avid music listener and collector too. I was exposed to a really eclectic mix music when I was growing up—pop, jazz, classical, rock, reggae. All sorts.
"When I bought my first piece I wanted things that people recognised because I wanted them to go on display at a museum someday."
Perhaps the only memorable item absent from the exhibition is Geri's Union Jack dress, which was bought at auction in 1998 by Hard Rock Hotel and Casino in Las Vegas for £41,300, with all proceeds going to a children's cancer charity.
But this is more than made up for with the sheer amount of outfits on display—such as Mel C's tracksuits, Mel B's leopard print two-pieces and an incredible selection of platform shoes.
Liz said: "The costumes and shoes were so iconic. I love the bright colours they wore. There's a Paul Smith two-piece suit that Mel B wore that's quite special to me."
After graduating in 2007, Liz put the wheels in motion to exhibit her collection in museums. Her Spiceworld: The Exhibition opened in Leeds in 2011 and attracted 50,000 visitors as well as plenty of press attention.
Her latest exhibition her biggest project yet. After teaming up with fellow collector Alan Smith-Allison (pictured below), and others, they have created the biggest Spice Girls collection ever, featuring thousands of pieces, as well as the recently refurbished Union Jack bus from SpiceWorld: The Movie.
Liz said: "You will not believe how many years I have wanted to get an exhibition of my collection together.
"Alan is a big Spice Girls fan and started collecting like me, then took it upon himself to do this touring exhibition of collectors' collections, so I couldn't say no when he asked me to take part.
"I'm delighted to be part of it, but more importantly it's great for the fans to see such iconic pieces all in one place."
#SpiceUpLondon runs until August 20 at the Business Design Centre in Angel Islington.
Tickets for #SpiceUpManchester, priced £10, are available from the website spicegirls-exhibition.com. Children under 12 go free.